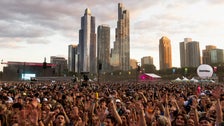 An 18-year-old Lollapalooza music festival security guard was charged with a felony after prosecutors said he threatened to shoot en masse at attendees last Friday.
Officials say they tracked down two messages to Janya B. Williams, who allegedly posted posts describing "150 targets" and a "massive shot" at the 100,000-person event at Chicago's Grant Park, the Chicago Tribune reported.
Prosecutors said he agreed to draft the messages because he hoped to "quit his job sooner".
Williams initially sent his supervisor one of the messages using the TextNow phone app, which prompted festival officials to contact the Chicago Police Department and the FBI, according to prosecutors.
Prosecutors claimed that Williams created a bogus Facebook page for "Ben Scott", wrote a threatening post and showed a screenshot of the post to his supervisor.
An investigation into the TextNow message found Williams was behind it, according to prosecutors.
Williams, a Chicago resident, has been charged with a bogus terrorist threat and the hearing is set for Monday.