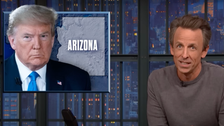 Meyers then played a clip from ABC's "World News Tonight" that described Arizona as a "state of vengeance".
"Nothing says 'divider' instead of 'uniting' more than one former president with a 'state of vengeance'," Meyers said. "You lost an election, stop acting like Liam Neeson threatening to have his daughter back."
Meyers then ran an impression of Trump over the phone that examined his "very particular skills", including those on the golf course.
Watch Meyers' "A Closer Look" segment from Thursday below: